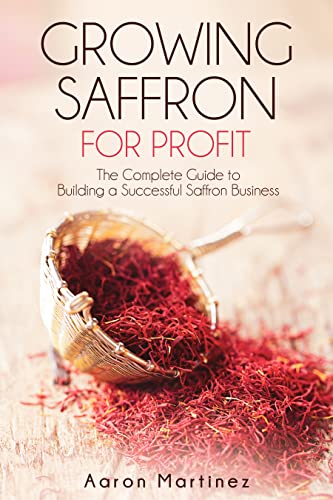 English | 2021 | ISBN: B09N1XJ4RB | 148 pages | EPUB | 23.13 MB

Make money successfully selling the most elusive, expensive spice on Earth – "Growing Saffron for Profit" will help lead the way!
Do you want to take your love for gardening on another level?
Have you always wondered what it's like growing saffron and how people make money off of it?
Are you looking for a comprehensive saffron business resource that will tell you EXACTLY what to do to make it big?
You're in luck!
Saffron is the most elusive, expensive spice on Earth – and for good reason!
While people absolutely LOVE cooking with saffron for its unique mix of flavors and aromas, there are only a handful of successful saffron growers who actually make a profit off of it.
This is because cultivating saffron is a complex science.
The flowers are so fragile that once they bloom, they must be harvested immediately before the scorching sun makes them wither.
If the stigmas aren't picked and dried within a few hours of harvesting, their complex characteristics are reduced.
That's why knowing exactly what to do – from harvesting to selling – is so important. Not only will you need your saffron spices of the utmost quality to catch buyers' attention, building a business off of them can also be very tricky.
Here's where "Growing Saffron for Profit" by international business expert Aaron Martinez can help.
Using his business savvy and personal business insights, Aaron created this complete guide to building a saffron business so that even beginners like you can succeed!
Using this comprehensive guide, you will
Learn everything you need to know about saffron, from how saffron is grown to why it's the most expensive spice in the worldSet yourself up for the most success by learning how to choose the perfect terrain and set up the most conducive environmentEnsure you grow healthy, high-quality saffron flowers and double your investment by choosing the best bulbs to plantGuarantee highly productive yields by learning the best-kept cultivation secrets and techniques that only a chosen few knowMake buyers go wild for your high-quality saffron by learning the most crucial preparation processesStart making money off of your saffron plants by deep diving into the best selling and marketing tipsMake your business run as smooth as possible and avoid administrative snags by learning all about taxes and paperworkMake your business go big by learning what your next steps would be after setting up basic business and saffron growing requirements
And so much more!
Even if you've never handled saffron or your own business before, "Growing Saffron for Profit" can certainly give you the clarity you need to get started and go big in the long-term.
The valuable insights in this book will help push you to get yourself out there, get your hands dirty, and master the business game until you succeed!
So, what are you waiting for?
Scroll up, Click on "Buy Now with 1-Click", and Grab a Copy Today!
Buy Premium From My Links To Get Resumable Support,Max Speed & Support Me
DOWNLOAD FROM HOT4SHARE.COM


DOWNLOAD FROM RAPIDGATOR.NET


DOWNLOAD FROM NITROFLARE.COM


DOWNLOAD FROM UPLOADGIG.COM